Unnoficial community Knowledge Base for
Cybershoes
,
the VR walking shoes from Vienna company Cybershoes GmbH.
If you own a pair of Cybershoes, share with us how you set up and use them!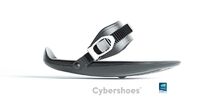 The aim of this site is to compile explanations for how to configure games and devices to use the Cybershoes.
We're a collaborative community website that anyone, including you, can build and expand. Wikis like this one depend on readers getting involved and adding content. Click the "ADD NEW PAGE" or "EDIT" button at the top of any page to get started!
All content posted by collaborators is released under a collaborative Creative Commons license. If you think some of the content infringes your property rights, please read Help:Copyright.
CONFIGURING YOUR CYBERSHOES
Setup - Learn how to setup the Cybershoes as controllers for walking in common VR devices and platforms
Games - Scripts for making the Cybershoes work with popular games
Need help building out this community?
You can also be part of the larger Fandom family of communities. Visit Fandom's Community Central!
Community content is available under
CC-BY-SA
unless otherwise noted.